Recently the Zebulon United Methodist Church Missions Team approved the instituting of a Baby Pantry. The purpose of this mission is to help mothers and babies in the community who do not have the resources to adequately provide basic items for their children. While there are other programs, such as WIC (Women, Infants and Children), our Baby Pantry will supplement these other resources. Those items include baby formula, diapers, baby food, gently used clothing, toys and baby paraphernalia such as strollers and cribs. ZUMC will serve mothers and children (up to 3 years old). Participants are allowed to come once a month.
Additionally, information relative to other resources in the community will be provided that may help these families get through some difficult times in their lives.
The first Baby Pantry was started in Hazard, Kentucky, by lay ministers who saw a need to support mothers and babies "on the edge." It was started in Sandy and Gaylan Goods' home in 1994.  Social Worker and Child Abuse Prevention Specialist Molly Minnick of St. Johns, Michigan, traveled to Kentucky to learn about the "Master's Lamb Ministry."  Molly was featured in The Ladies Home Journal for her efforts to start Baby Pantries in Michigan.
Molly, a dear friend of Sue Kiley White, the manager of the ZUMC Baby Pantry, inspired Sue to do this work in Zebulon. Molly's work and the work of her volunteers have shown to be a huge success and have grown exponentially over the past 25 years, spreading to many counties all over the mid-Michigan region.
The ZUMC Baby Pantry is located in the Mission House, which also houses the Food Pantry and Meals on Wheels. Originally, the ZUMC Baby Pantry was going to be open 3 times a month. However, after two days of operation, it was determined that there was a greater need than anticipated, so the decision was made to have the Baby Pantry open every Wednesday and the third Saturday of every month.
Through the generosity of the ZUMC congregation and community leaders, the Baby Pantry has already received formula, diapers, bathing supplies, clothing, and beautiful baby afghans made by the ZUMC Knitting and Crochet Circle. Circle 1 of Zebulon United Methodist Women has taken on the Baby Pantry as their Mission for this year. Requests for specific items will be asked for every quarter, i.e. February – Diapers; May – Formula/Food; September – Clothing; and November – Bathing supplies and pajamas.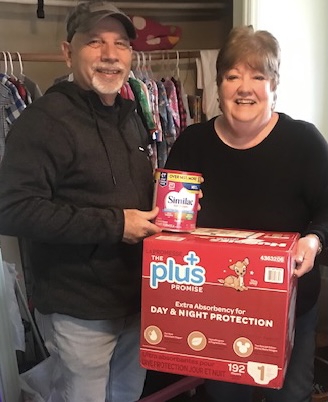 Comfort Masters Heating and Air Conditioning, a Zebulon business, kicked off the fundraising efforts by giving a $500 check and starting supplies. From there, the donations started coming in from all areas of the Zebulon community.
An Advisory Board has been established consisting of Sue Kiley White, Chair; Mike Powers, Missions Chair; Bob Russo, Food Pantry Chair; Lucy Lamm, Church member/community activist; Shannon Baxter, church member/Zebulon Town Commissioner; Yvonne Eudy, church member/volunteer; Judy Sink, church member/nurse and Catherine Rosales, community volunteer.
"Our main goal is to help all those in need, especially the working poor," said Kiley White. "We are here to serve and to make sure no little ones are cold, wet or hungry."
Anyone interested in learning more about the ZUMC Baby Pantry can contact Sue Kiley White 919-559-1098, skwhite517@gmail.com or Rev. Liz Hounshell at 919-269-9408.